Ignacio Garrido Viti and Luis Lechon Cabello are both talented athletes who lived 12 minutes apart in Madrid, Spain.
The two friends wanted the experience of studying abroad by transferring to Wayland Academy, a boarding school in Beaver Dam.
Since they've stepped foot on campus, Wayland athletic director Cody Schultz has taken notice of how they "adapt and overcome" to challenges during the school year.
"These guys are just natural leaders on our campus," Schultz said. "They're very inspiring for our students, great examples of Wayland athletes."
Garrido Viti and Lechon Cabello quickly learned they weren't eligible to play their main sport, soccer, when they arrived for the fall season.
Student-athletes will be unrestricted to participate in sports if they transfer in their first two years or if it's a complete change of residence. If they transfer as a junior, like in Lechon Cabello's case, they're restricted to just junior varsity participation only, and a senior who transfers, like Garrido Viti, is restricted to practice only.
"It's interesting the way it happens here because generally, if you're in America or in Wisconsin, when you move, your family is moving," Schultz said. "A lot of the kids that move as juniors or seniors, they get unrestricted eligibility because it's a complete change of residence. Even though they moved, their families didn't move. So, it doesn't matter, even though they're crossing the ocean. They are completely changing their residences. The WIAA doesn't look at it as any different. It's tough on our kids."
During its annual meeting on Wednesday, the WIAA voted 354-27 to allow seniors to participate at the non-varsity level.
Schultz said it's tough for students who transfer to Wayland and find out they can't play the sport they love, whether it's because of WIAA rules or the school simply doesn't sponsor it. Lechon Cabello could've played soccer had the Big Red had a junior varsity boys soccer team, but the roster wasn't big enough to field a squad.
"It was a little bit disappointing not being able to play our main sport, but we found other sports that we really liked, like rowing, powerlifting and lacrosse," Garrido Viti said. "It was fun to experience new sports."
Row the boat
Both Garrido Viti and Lechon Cabello joined the club rowing team during the fall season, the endurance season with longer distances.
"As athletes, they're already pretty talented," Wayland rowing coach Seth Ahlborn said. "You take that and put them in a boat and try to perfect the same thing over and over and over again."
Ahlborn placed Garrido Viti at seat 6 of an eight-man boat and seat 2 in a four-man boat while Lechon Cabello was the stroke in both a four-man boat and eight-man boat, which means he was the lead rower.
"For somebody who is pretty good at setting cadence, I want them at the front of the boat," Ahlborn said of Lechon Cabello. "He's the person everybody else is going to follow. It's also nice when that comes with a mix of strength and power, which both of these guys have."
Added strength
The two Big Red athletes kept trying new things in the fall as they worked on their strength and power when they joined the powerlifting program, led by Schultz.
Schultz said both of them took the sport "really seriously" from the beginning. They got in the weight room often and ate well at Wayland's dining hall on campus.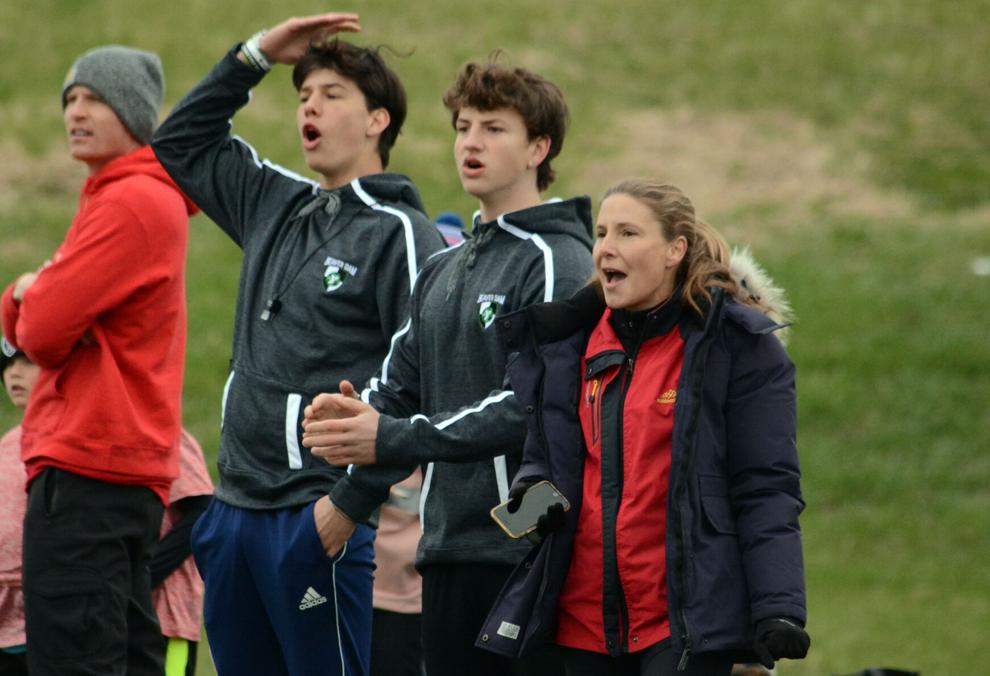 Garrido Viti, nicknamed Nacho, gained about 20 pounds of muscle and his personal bests were 165 pounds on bench, 275 pounds squatting and 315 pounds deadlifting. Meanwhile, Lechon Cabello gained close to 30 pounds of muscle while benching 200 pounds, squatting 275 pounds and deadlifting 375 pounds.
"They did great," Schultz said. "Nacho, who didn't lift before, is somebody who became very good at lifting. They really helped a lot of kids who were less experienced. Luis, I've never seen somebody gain weight the way he did. He left here looking like a human muscle when he went (home) on spring break. He was a physically imposing force. He came back (on March 27) and he still looks big. He cut a little bit of weight, but they're both extremely strong."
Once spring sports began in March, Lechon Cabello got back into rowing, for the sprint season, which features shorter distances.
Garrido Viti decided to forgo rowing during the spring and instead picked up lacrosse, which is coached by head of school Jason Warnick. Garrido Viti plays midfield or attack because he's more of an offensive-minded athlete, much like in soccer.
"It's like soccer with an open field and lots of running, and getting open and using space and passing the ball," Warnick said. "I think he uses his physicality and strength from rowing and from powerlifting. He's picked it up very quickly."
First-time coaches
Warnick has had the chance to get to know both Garrido Viti and Lechon Cabello and has seen how good they are in soccer "just playing around" with the school's soccer team, so he brought up the idea of coaching this spring.
Warnick and his wife, Colleen Warnick, have two young children, Emmet and Mitchell Warnick, playing on a 10-and-under soccer team within the Beaver Dam Unified Soccer Club. Colleen Warnick coaches the team, but her grasp of the sport is just general knowledge so she and her husband asked Garrido Viti and Lechon Cabello to assist her.
"They're used to a certain way as well, so we're combining the different methods," Colleen Warnick said. "I think it's been great for the kids because they've got two athletes to play soccer with from another country and showing them stuff."
Learning about themselves
The soccer season started after spring break, which added to an already loaded schedule for the two athletes trying to balance schoolwork and extracurricular activities. Colleen Warnick said their first priorities are school and practice, which means they only show up to one or two soccer practices during the week and on game day during the weekend if they don't have sporting events.
Colleen Warnick said it was a wake-up call for both student athletes after the first practice because the team had a lot of energy.
Both Garrido Viti and Lechon Cabello, who have played soccer for over a decade, said coaching has taught them patience and to believe in themselves.
"When you're a coach, you feel like you need to trust in yourself and try to have confidence for the kids because if you are teaching something you don't know, they're going to notice," Lechon Cabello said. "You need to trust in yourself and think about what you're saying and thinking about what you're doing."
Colleen Warnick said an example of this came during a recent practice. When the team wasn't focused and "were being goofy," Garrido Viti and Lechon Cabello kept repeating their drills and changing their verbiage until the team started taking things seriously.
"You really have to be persistent and consistent with them," she said. "They had fun with them. With the last play of practice, they played with them. The kids laughed a lot and had fun while at the same time getting some really good knowledge about the positions, play, what to do with a throw-in or a goal kick while they're in a game-like activity."
Jason Warnick has been impressed with how the pair have taken on a leadership role while adjusting to their new surroundings.
"These guys are a great example as teachers to see why we do what we do," he said. "To see two young men take advantage of every aspect of the school as well as explore outside of the school into Beaver Dam, into the community and then give and contribute to the Beaver Dam community, I think they are getting a lot out of this and we are getting a lot out of this."