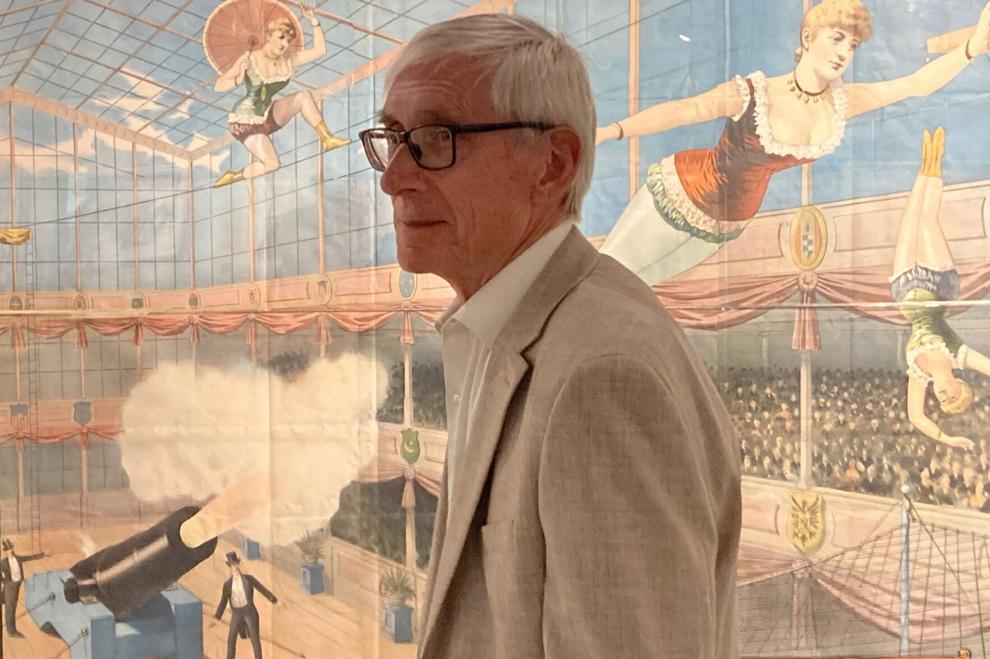 The spotlight was on at both Baraboo's Circus World and the Al. Ringling Theatre on Wednesday afternoon. Gov. Tony Evers visited both cultural institutions to celebrate and support Wisconsin tourism during National Travel and Tourism Week.
At Circus World, Evers was met by Scott O'Donnell, Circus World's Executive Director; Dave SaLoutos, the longtime ringmaster at Circus World who recently retired; and other local luminaries to marvel at the exhibits, gaze at the Big Top, now risen for the coming performance season, and delight at circus performing jugglers.
"Wisconsin's tourism industry surged in 2021 and 2022 and outpaced our neighbors in Illinois, Michigan, and Minnesota, and in my 2023-25 budget proposal we're making sure it continues to succeed," said Evers recently at the Wisconsin Governor's Conference on Tourism.
Evers's 2023-25 budget proposal would provide an additional $13.3 million to the Department of Tourism's base budget to keep them competitive with neighboring states. It also creates a Meetings, Conventions, and Sports Bureau and an Opportunity Attraction and Promotion Fund in hopes that the state can compete with neighboring states for major events to happen in Wisconsin.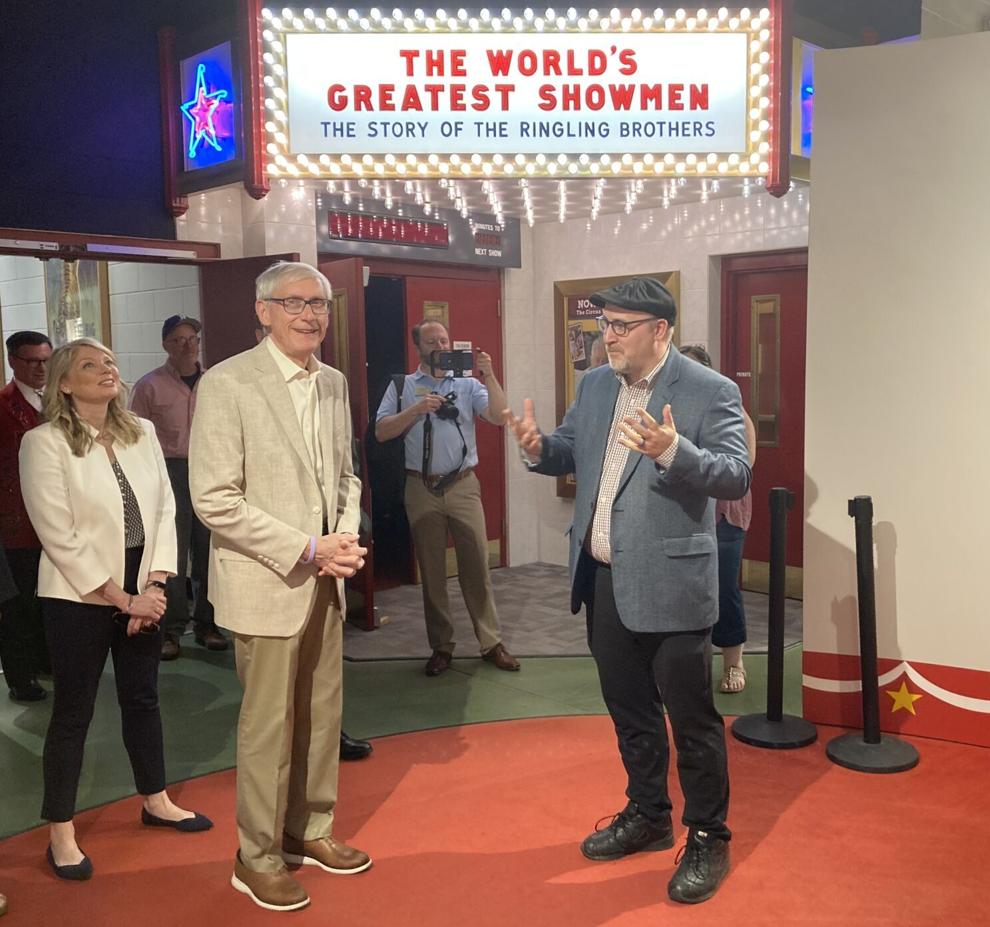 Evers also wants to invest $30 million in the Department of Tourism's budget for marketing in the next biennium and continuing the Tourism Capital Investment Grant Program to support major infrastructure projects.
"All these investments – and more – are designed to strengthen the economic engine that is Wisconsin's $20.9 billion tourism industry," Evers said in a statement.
Republicans on the Joint Committee on Finance last week voted to remove the governor's proposed $50 million investment to continue the Tourism Capital Investment Grant Program. The Committee did not remove the more than $70 million in additional investments to support marketing, large-scale event recruitment, and the Office of Outdoor Recreation.
The Office of Outdoor Recreation now, through the budget, will be a permanent part of the state of Wisconsin team. Wisconsin's outdoor recreation industry contributed a record-setting $8.7 billion to the state's gross domestic product in 2021 and the outdoor economy grew by 14.1%.
The governor's plan to invest in, and bolster, the state's tourism industry is multi-pronged.
Governor Evers is proposing to expand existing programs to promote tourism; recruit and attract large-scale events; and invest in the arts.
The $20.9 billion in total economic impact of Wisconsin's tourism industry is a 21% increase from 2020. The current tourism industry supports 169,000 full- and part-time jobs.
Circus World's exhibits in their main museum is now open for the season, and will be, through Sept. 29 of this year. Their 2023 performance season begins May 19 and runs through August 27. Their new season is a western-themed celebration entitled "Go West."
The 2023 season will also be the last performance season for Circus World's two elephants. The two elephants were recently named the Grand Marshalls of the coming Big Top Parade that returns to the streets of downtown Baraboo on Saturday, June 24.
Soon, at the historic Al. Ringling Theatre, which Evers also toured, there will be the Baraboo High School Pops Concert. It takes place on May 15 at 7 p.m. On June 9 and 10, the Al. Ringling Theatre stage will be graced by the Bravo Rise Up! dance recital at 6 p.m. They will also be offering three tours during Baraboo's Spring Fair on the Square on Saturday, May 13.
The tourism industry in Baraboo, Evers took note, is bigger than an elephant and brighter than a theatre marquee.
PHOTOS: Baraboo pieces together the ingredients in "A Recipe for Murder"
A murder most foul, and yet, surprisingly family friend has come to Baraboo. On April 1-2, the town hosted its third annual Mystery Weekend, filling the downtown area with amateur sleuths investigating the murder of Al Dente, a competitor in a reality cooking show. Organized by Jill Addy, the owner of Baraboo's A Sense of Adventure fair trade store, the case has the town's citizens-turned-detectives asking "whodunnit?"